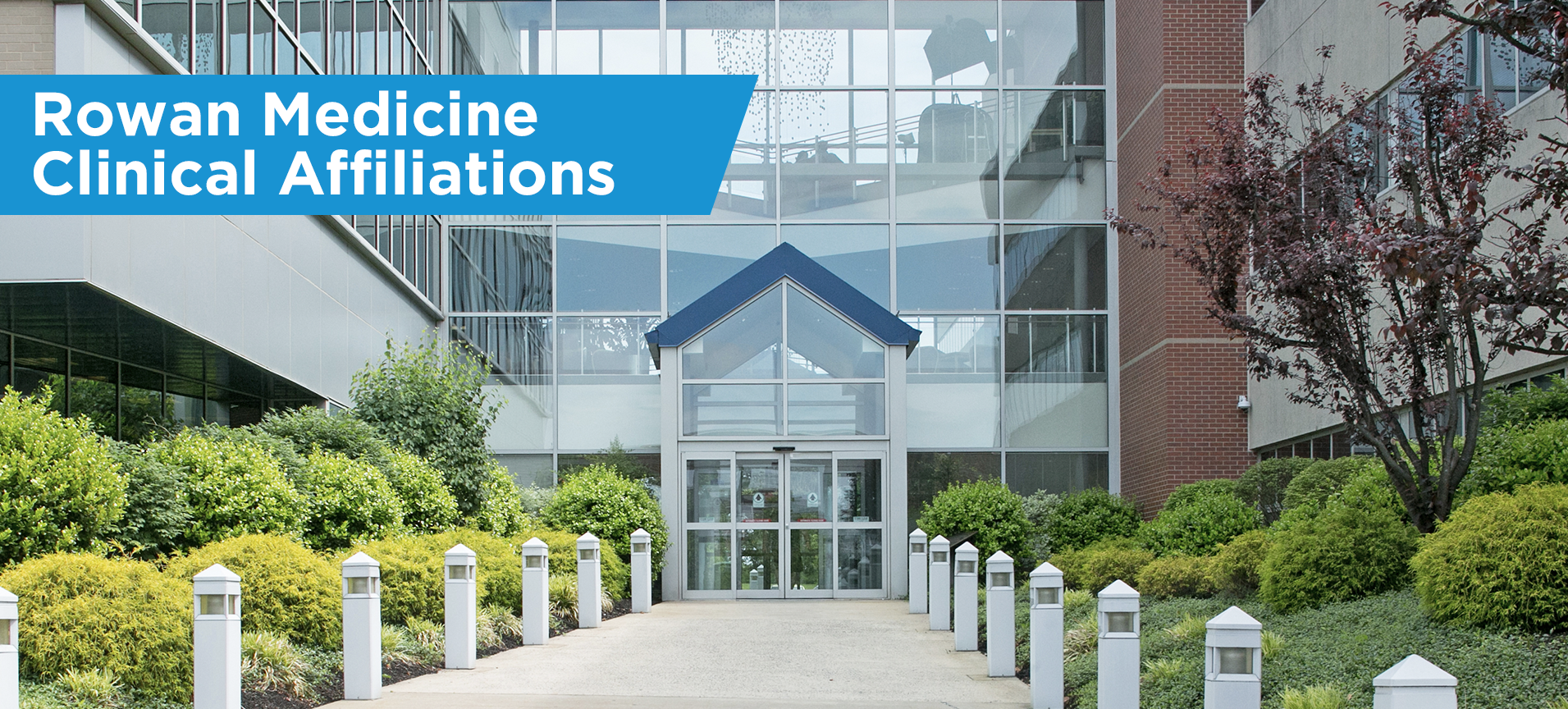 Clinical Affiliations
Principal Hospital of Rowan-Virtua SOM

Jefferson Health New Jersey

Jefferson Health brings world-class health care to patients in communities where they live. They have locations in Cherry Hill, Stratford and Washington Township, serving patients across Southern New Jersey.

Major Clinical Affiliate of Rowan-Virtua SOM

Virtua - Our Lady of Lourdes

Virtua Our Lady of Lourdes Medical Center is a preeminent regional medical center known for providing the most sophisticated levels of care. For over five decades, the Medical Center has been committed to enhancing the health and well being of southern New Jersey residents and particularly devoted to caring for those most in need. This 410-bed teaching facility is known for being a leader in the provision of state-of-the-art services as well as an essential provider of primary care services to all.

Major Clinical Affiliate of Rowan-Virtua SOM

Inspira Health Network

Located in Elmer and Vineland, Inspira Health Network is the leading community provider in southern New Jersey and is highly regarded for quality of care and service in its region. South Jersey Healthcare Regional Medical Center is a 262-bed 441,000 square foot facility built on 62.5 acres at the intersection of Routes 55 and 552 in Cumberland County, New Jersey. The integrated medical campus is uniquely designed to complement and enhance the delivery of responsive, efficient care. Residents embrace the atmosphere of wellness, prevention and a new standard of treatment.
Additional Clinical Affiliates
Christ Hospital

Christ Hospital is a 381-bed acute care facility located in Jersey City, New Jersey. A modern, state-of-the-art facility, Christ Hospital, a community healthcare provider, exists to promote and improve the health of the residents of Jersey City and the surrounding communities through the effective provision of quality healthcare.

Cooper University Hospital

Cooper University Hospital offers a network of comprehensive services that include prevention and wellness, primary and specialty physician services, hospital care, ambulatory diagnostic and treatment services, and home health care within Southern New Jersey, Philadelphia and the entire Delaware Valley.

The mission of Cooper University Hospital is to advance the health status of the region's population through the provision of appropriate health and medical care. To accomplish this mission, Cooper University Hospital serves as a principal site for the education of physicians, provides programs of allied and community health education and offers highly complex health care resources to assist in the educational process.

The Deborah Heart and Lung Center

Deborah offers the latest surgical techniques and non-surgical alternatives for diagnosing and treating all forms of cardiac, vascular and pulmonary diseases in adults, and congenital and acquired heart defects in neonates and children. The Deborah Heart and Lung Center is a 139 bed hospital with a full-service ambulatory care center.

K. Hovnanian's Children's Hospital

At K. Hovnanian's Children's Hospital located at Jersey Shore University Medical Center, we treat each child as one of our own. With the region's first and most comprehensive pediatric program, we are committed to keeping children healthy by providing the highest quality of care.