Perinatal depression is a medical condition with potentially dire consequences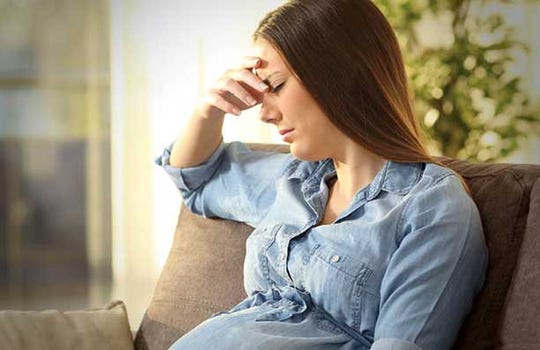 The U.S. Preventive Services Task Force (USPSTF) recently released new guidelines that encourage health care providers to recommend counseling to pregnant or postpartum women who are at increased risk of depression.
"Depression during pregnancy or in the year following childbirth is a significant health issue that affects as many as one out of every seven pregnant women in America," said Dr. Michael Ricardo of Rowan Medicine's Department of Obstetrics and Gynecology. "Perinatal depression is more than just the 'baby blues' and isn't something that will go away on its own. A woman with perinatal depression will experience feelings of extreme sadness, may have crying spells and will have difficulty providing the daily care she and her baby need. In rare cases, she may have hallucinations or attempt to harm herself or her baby."
The USPSTF recommendations extend to pregnant women who have certain risk factors, including a history of depression, adolescent or single parenthood, and recent intimate partner violence. The recommendation is based on dozens of research studies that found that counseling services may reduce the risk of depression by as much as 39 percent.
 Dr. Ricardo noted that a number of potential factors can trigger symptoms of depression. "The rapid change in hormone levels following childbirth can affect mood. At the same time, a new baby can often mean that moms will lose opportunities to sleep, leading to exhaustion and a lack of recovery time from childbirth."
Recognizing these symptoms and finding help are vitally important to protect the health of both mother and child. However, diagnosing postpartum depression isn't easy and should be left to an experienced health care provider.
"Feelings of sadness that last beyond a few days, frequent mood swings, withdrawing from friends and family, believing you are unable to care for your baby, or having difficulty bonding with your baby can all be signs, but are not the only indicators," Dr. Ricardo said. "A woman who is experiencing these or any unusual symptoms should make an appointment to meet with her health care provider right away."
Perinatal depression can affect any woman, regardless of age, socioeconomic status or number of previous pregnancies. Left untreated, perinatal depression could develop into a serious mental health concern that affects not only the mother's health but also her ability to care for her baby.              
"The initial line of treatment will be talking with a physician or health care provider," Dr. Ricardo said. "Friends and family may sometimes be the first to notice any symptoms. They can help by offering emotional support, assisting with meals or household chores, or encouraging the new mom to schedule a visit with her health care provider."